Wreaths, garlands, and other greenery are staple Christmas decorations in many homes. They add cheer and put the finishing touches to entryways, living rooms, and more. Artificial greenery is a great option if you want something that lasts for years. They're also good if you have allergies or worry about pets accidentally ingesting the foliage.
Balsam Hill® offers different types of greenery and this guide shows you how to choose the best ones for your home—from sizing to care and storage.
WHAT ARE THE COMMON FOLIAGE TYPES?
Many of our wreaths and garlands match specific artificial Christmas trees and share the same needle, colour, and texture. Some are part of collections that include swags and potted greenery. Pre-lit and unlit options are both available to suit your preferences.
WHAT FOLIAGE SIZE SHOULD I CHOOSE?
Size is as important as style when decorating with faux greenery. Below are measuring guides to help you determine the size you need. Take note that these measurements are after fluffing and shaping.
WREATH
Wreaths are typically displayed on doors, but you can hang them on walls or set them on the mantel. Balsam Hill artificial wreaths range from 45 centimetres to 120 centimetres in diameter.
Best for standard front doors measuring 75 to 90 centimetres wide. You can hang two wreaths of this size on double doors.
Suitable for a larger entryway or if you want a slightly oversized wreath for your standard door.
Recommended for oversized doors. Also ideal for wider spaces like walls with high ceilings, or above large fireplace mantels.
GARLAND
Garlands are flexible and can be draped over doors, banisters, or mantels. Balsam Hill artificial garlands range from 180 centimetres to 305 centimetres long, and most can be linked together to make a longer garland if needed.
Recommended for standard doors or mantels. Connect several for a longer garland.
Suitable for wider archways and double doors. Use this if you want the garlands to gather at the bottom.
HOW TO CHOOSE THE RIGHT SIZE OF WREATH AND GARLAND
Watch this video and learn how to determine the right size of wreath and garland for your front door:
FOR GREENERY WREATHS:
Measure the height and width of the space where it will be displayed. A wreath should cover 50 to 75% of the space's width and shouldn't be wider or taller than the hanging surface.
For a standard 75- to 90-centimetre door, allot about 15 centimetres of space on each side of the wreath for a simple look.
For a more dramatic effect, choose a bigger wreath but leave at least 5 centimetres of space on each side.
FOR GREENERY GARLANDS:
Use string or yarn as a placeholder. The length you end up with is the same size you need for your garland.
To wrap around an object, use twice as much length of foliage as the height of the object.
For a flat surface, allot 60 centimetres on each end to hang off the edge.
To hang on a line, plan for roughly 45 to 60 centimetres of garland for every 30 centimetres of draping space to allow for slack.
Make sure the garland's thickness doesn't under- or overwhelm the area. Consider double layers or opt for a swag if you want a fuller look.
HOW REALISTIC WILL THE FOLIAGE LOOK?
Our artificial greenery collection features varying levels of realism and styles. Many are designed after the foliage of real tree species, from the shape and texture of the needles to the nuances in colour.
NEEDLE TYPE
We categorise needle types according to the material used. PVC (polyvinyl chloride) needles are flat and papery, while PE (polyethylene) needles have more dimension. Some artificial greenery feature a combination of both—the more realistic the foliage, the higher the PE count.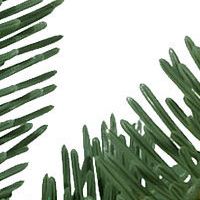 TRUE NEEDLE®
Exclusive to Balsam Hill, these injection-moulded PE needles mimic the structure, texture, and colour variations of natural evergreens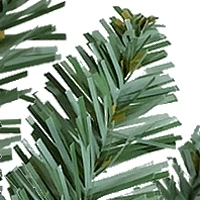 CLASSIC NEEDLE
Soft, flat, and flexible PVC needles with a more classic artificial Christmas tree look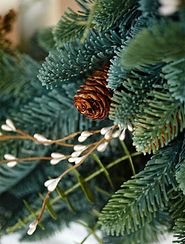 MOST REALISTIC
These wreaths and garlands feature our exclusive True Needle foliage, made from PE tips that mimic the structure and colour of natural evergreen needles.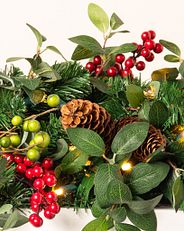 TRADITIONAL
Affordable faux greenery with the same Balsam Hill quality, made from classic PVC needles for a full and lush look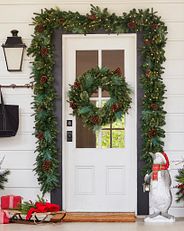 DECORATED
Christmas-themed artificial greenery with ornaments, green or frosted foliage, and other accents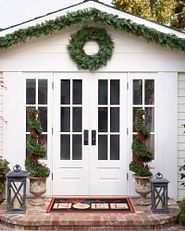 OUTDOOR-SAFE
UV-protected to prolong colour and beauty when displayed outdoors
WHAT ARE MY OPTIONS FOR PRE-LIT WREATHS AND GARLANDS?
Balsam Hill offers both unlit and pre-lit artificial greenery to suit your decorating style. All pre-lit models are battery-operated and professionally hand-strung with UL-listed bulbs for both indoor and outdoor use.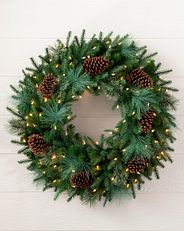 BATTERY-OPERATED LED
Pre-lit with clear energy-efficient LED lights emit a warm, candle-like glow.
HOW DO I SET UP MY GREENERY?
HOW TO UNBOX YOUR NEW WREATH & GARLAND
Your faux greenery will arrive at your door in a box. Here's how to prepare for set-up:
Step 1 | Look for the sign on the box indicating which end to open.
Step 2 | Carefully cut the seal and open the box flaps.
Step 3 | Pull the greenery out of its box. Take note that it's compressed for packing and needs to be fluffed.
Step 4 | Inspect and identify the plug or battery box if applicable.
Step 5 | Make sure to store extra bulbs in case you need them.
HOW TO FLUFF WREATHS & GARLANDS
After unboxing, you'll notice that the foliage is compressed in its packaging. Artificial wreaths and garlands need to be fluffed and reshaped to give them a fuller, realistic look.
FOR WREATHS
Step 1 | Straighten each tip individually and spread out the tips so they extend outward all around the wreath. Bend tips to fill any gaps.
Step 2 | Adjust tips to make sure that the attached decorations are not covered under foliage.
FOR GARLANDS
Step 1 | Lay it on a flat surface with the spine facing downward.
Step 2 | Straighten out bends or kinks in the wire.
Step 3 | Straighten and spread out individual tips to create a full, lush effect.
For more tips on shaping your artificial greenery, read this IN-DEPTH GUIDE.
HOW TO HANG WREATHS & GARLANDS
Balsam Hill wreaths have wire frames, while garlands have spines that support the foliage when hung on hooks or strings. If you're concerned about damage to surfaces, there are ways to

 
HANG WREATHS AND GARLANDS WITHOUT MAKING HOLES
. Wreath and garland hangers can be used, as they are made specifically to go over doors. This way, you don't have to drill holes or hang greenery from a nail. Make sure that the hanger you choose can carry the weight of your greenery.
HOW DO I TAKE CARE OF MY ARTIFICIAL GREENERY?
HOW TO CARE FOR GREENERY
It's best to clean your artificial greenery before packing it away. Here's how:
Step 1 | Use a hair dryer on low setting to blow dust away on the tips. Or, gently remove dust from surfaces with a feather duster.
Step 2 | With a light hand, wipe the larger decorations such as leaves and ornaments individually with a microfibre cloth to remove any dirt build-up.
Step 3 | De-fluff by flattening tips to make it easier to fit into the storage container.
Step 4 | Cover your greenery in plastic for extra protection. Include a couple of desiccant pouches to keep it dry in case of moisture.
INSIDER'S TIP
Pick a dark, dry, and cool place to store your greenery. Avoid areas that change temperature or are exposed to direct sunlight to prevent damage.
HOW TO STORE WREATHS & GARLANDS
Store your foliage properly so that it retains its shape and beauty year after year. If you don't have the original box anymore, use specially designed

 
STORAGE BAGS
. These are made of sturdy material with padding and secure openings to keep your artificial greenery intact and safe.
NEED HELP?
We hope this guide helps you choose the best artificial greenery for your home. Leave a comment below for any questions or reach out to us
HERE
.
LEARN MORE
For more tips on decorating with artificial greenery, visit the guides below.